Skysharp Solutions supplies SIA trained security guards who are additionally trained to supervise Events, Patrol venues, Protect sites and Control crowds professionally.
At Skysharp Solutions we understand that it is important for an event to run smoothly, safely and go to plan, we ensure that the event goes to plan through our fully trained and regulated security teams which include, Security Officers, Door Supervisors, Event Stewards, Event Staff and Event Managers.  We have the manpower needed to handle with small events and large events this includes conferences, conventions, private parties, charity events, business gatherings, red-carpet events and black-tie affairs.  We can also deal with sophisticated security operations for sizable events such as stadiums/arenas, major concert halls, high-level red carpet events, racetracks, casinos and political gatherings.
Skysharp Solutions works closely with personnel and event organisers at the early stages of planning right the way through to the breaking down and site clearing operations after the event.  We are very committed in ensuring we provide the safest possible environment clients expect, and we have highest professional and proactive staff clients would expect. Skysharp Solutions provides security services throughout the UK for all types of special events, and when it comes to protecting individuals at special events Skysharp Solutions are able to offer top class security officers to ensure the event runs smoothly.
Skysharp Solutions covers all aspects of event security and specialises in:
Crowd Management
Backstage Security
Perimeter Security
Control of VIP Areas
Logistics Guarding
Stewarding
Health and Safety Issues
With our wealth of experience in the event security industry you will benefit from a fast, reliable and friendly service with a company which has a proven track record of providing security staff across UK and Ireland.  We can cover all sizes of events, from risk assessments to crowd dynamics and as an approved contractor we can guarantee we provide you with the highest of standards.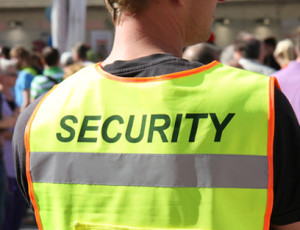 One of our key goals is to help remove stress and assist with the development of the event and meet client aspirations. With our experience and expertise in planning and implementing all the elements of successful event security, we can guarantee that we will handle the event effectively through our specialist security functions this includes the ingress and egress management, emergency services liaisons, effective pit team deployment and close protection services. Fundamentally Skysharp Solutions has the practical understanding of the licensing conditions and health and safety issues this includes the risk assessments and we are more than happy to provide any practical guidance that may required. In addition we ensure that we follow and use the HSE Event Safety guide and the BS8406:2003 as the basis for our special events. We also work closely with government bodies, trade associations and professional agencies and keep up-to-date with all new developments and legislation in this field. Clients can be rest assured that their duty of care in respect of Health and Safety is exercised effectively and as discretely as possible.